USDA RURAL DEVELOPMENT LOANS
USDA Rural Development Guaranteed loans provide a lucrative financing opportunity for families. It is a great way to get a low rate and flexible qualification guidelines. The one and only caveat to the USDA Rural Development loan program is that you must purchase or (for a refinance) live in a home in an eligible rural area. The USDA determines the areas considered rural for their loan program and the data changes periodically, but this area typically includes most of Shepherdsville and nearly all of Mt Washington. See the map below. All area not shaded yellow is eligible for this loan program. If you want to know the exact boundaries at any given time, their website provides up-to-date information to help get you started. Click here to view the USDA's interactive/zoomable map showing all eligible areas.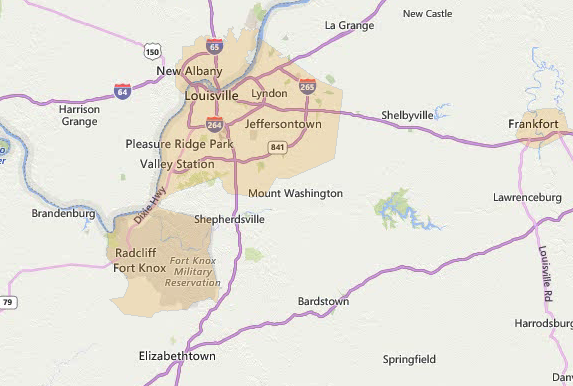 Benefits of Financing a Rural Home with a USDA Loans:
100% Financing - Zero Downpayment: The program provides a guarantee to USDA lenders, enabling them to extend home loands to borrowers up to 100 percent.
Easy to qualify: There is no minimum credit score required to be eligible for a USDA loan. Although the lender may wish to set their own minimum score, the guarantee of repayment by the USDA allows the lender to set this score much lower than they would normally feel necessary.
Bankruptcy/Foreclosure/Short-Sales are OK: While these events would normally disqualify a new home buyer, the USDA only requires a few years to pass before eligibility returns.
Lower annual mortage insurance cost: The insurance rates are much lower than other home loan programs, such as FHA, VA, and Fannie Mae loans.
97% of the country is covered: The primary requirement for USDA home loan eligibility is property eligibility, which requires the home you wish to purchase to be in an elibile area. Click here to view a map of eligible areas. As stated above, most of Shepherdsville and nearly all of Mt Washington is covered under this program.
To apply for a USDA loan, you must approach a USDA Lender in your area. The loan application for the USDA program goes through the USDA approved lender of your choosing as well as the USDA, as both parties must approve the loan. The funding comes directly from the USDA mortgage lender rather than any government agency – the USDA simply guarantees the loan should you default on your payments in the future. These loans are also referred as "Section 502 USDA Guaranteed Loans". Click here to see USDA approved lenders in your area.
For more resources, scroll to the bottom of the page. If you would like even further information regarding USDA loans one of our agents would love to contact you personally. Please fill out the information below and we will respond at our first opportunity. Be sure to mention in the comments box that you are interested in the USDA rural home loan program. Also, below the form you can find links to further information regarding this program.