Eric Scroggin
CDPE, Realtor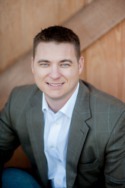 Eric was born and raised in Bullitt County, Kentucky, attending North Bullitt High School as a child. He continued his education at Bellarmine University, playing baseball for four years before graduating in 2004 with two degrees: Economics and Business Administration.
Eric is an honoree member of the RE/MAX Hall of Fame and is in the top 1% of the Board of Realtors. He has a background in lending and banking, and has been a real estate agent for 10 years. As well as his career in real estate, Eric also builds and remodels homes. This cornucopia of skills, experience, and knowledge allows him to provide his clients with a unique and truly all-encompassing guide to the housing market.
Most importantly, Eric is a husband and father of three--Mason, Ellie (twins), and Ruthie. In his down time he enjoys spending time with his family, as well as boating, fishing, and hunting.
If Eric could have lunch with anyone throughout history--living, dead, or fictional--he would have it at Bojangles.
Testimonials
We have really enjoyed this very exciting time in our lives. Eric and Heather have been wonderful to work with. We are selling and building. The whole team is wonderful! I would highly recommend this team if you are looking for a realtor or builder.
Cara Tatro Wann
Eric and team were excellent to work with. He was patient and willing to answer all of our questions and make suggestions during our home buying and selling experience. He helped make the process smooth, and we would recommend Scroggin Team to anyone!
Michelle Cecil
Eric was awesome to work with. Knowledgeable about construction, responsive when we had questions, and he was able to get us on-site into any home we wanted to view quickly. He gave us great information about neighborhoods, builders and local regulations that you just don't get with a lot of other realtors. Highly recommend!
Michael Drew Hatcher
Eric was our agent when selling our home. He did a wonderful job getting people out to look at our house. He was very knowledgable about the whole process and respectful of what we wanted out of the house. He was also honest about what he thought we needed to do to get it sold. The process was unstressful as selling a house could be. We thank him for all the hard work!!
Nita Murilla
Eric Scroggin and his team made the process of selling an estate home seamless. He and his team addressed all concerns and were quick to respond. They went above and beyond to sell the home at top dollar.
Pamela Gooch
More Testimonials