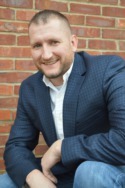 Brian was born and raised in Shively, on the south side of Louisville, Kentucky. He attended PRP High School where he was a member of the FFA (Future Farmers of America). In this time he was also a Shively Police Cadet, reaching the rank of captain at the age of 20. Brian continued his post-high school education at Jefferson Community and Technical College, studying pre-pharmacy. Afterwards, he obtained his Class A CDL and worked as a truck driver.
Though the newest member of our team, Brian's personal ambition and focus are sure to lead him to success as a real estate agent. He has an extreme attention to detail, as well as what he proudly refers to as a blue-collar work ethic. His personal motto is "no days off".
Brian currently lives in Mt. Washington, Kentucky and is a member of the Louisville OCR (Obstacle Course Racers).
Testimonials
Brian was always professional. Very efficient , knowledgeable and would answer any questions I would have in a timely manner. Very helpful, honest and trustworthy with my information.
Charmaine Miller